Dreamlord Games is an institution of Italian roleplaying. Born from the efforts of Nicola Urbinati to bring the renowned Fate roleplaying system to our country, this publishing house was made real by fans, for fans, and is always looking for hidden pearls or novel ideas. Games for dreamers, translated and adapted for Italy from all over the world.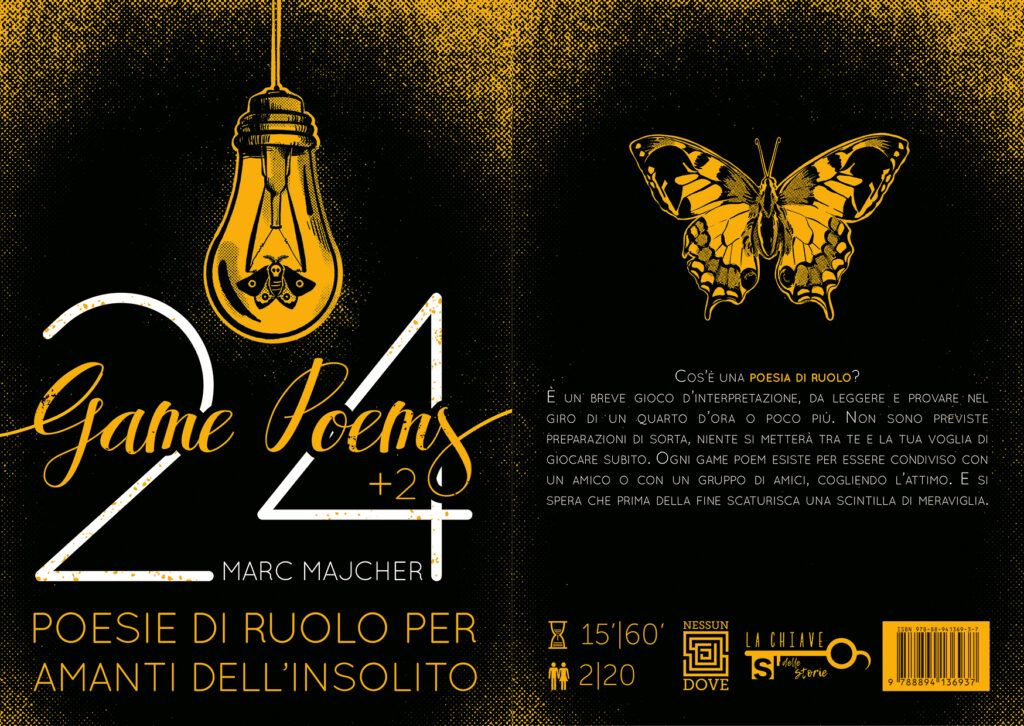 Imagination in power: Our games take the shape of books, but it's the players who make up the story, aided by lean and focused rules.
One for all and all for one: It's like a conversation. Everyone gets a turn, and everyone contributes with their own creativity.
Takes all kinds to make up worlds: No need for game boards or miniatures. Or limits, for that matter. Dreaming up a character is enough. Be anyone. Anywhere.
Nicola Urbinati opens Dreamlord Press to bring the Fate Core book to Italy.

2014

Dreamlord Press becomes Dreamlord Games and begins its partnership with NessunDove.

2020
Strength in unity: We are part of a community that believes in gaming culture as a place for dialogue and reflection. We want to spread its richness.
NessunDove adaptation projects address more than an audience of aficionados: we aim to get LARPers to sit down, to make tabletop gamers stand up, and to help anyone who's curious about roleplay approach this world, through agile rulesets and beautifully-designed editorial products.
24+2 Game Poems
Marc Majcher
Game poems for lovers of weird things. A collection of short gaming experiences, as quick as reading a sonnet, and just as intense. Sometimes tragic, sometimes hilarious, like only good poems and good games can be.
Never Tell Me the Odds
David Somerville
Space scoundrels in a galaxy far far away. A fast-paced, adrenaline-packed game where you risk everything at the flip of a coin. Full of tables to quickly generate scoundrels and a galaxy of planets, allies and villains, all inspired by genre classics, but with their own over-the-top flavor.
Les Petits Choses Oubliées
Sylvie Guillaume & Christoph Boeckle
A game that starts from a handful of picture to explore the bittersweet love story of a young couple. The rules are written on the back of twelve postcards, carefully picked to inspire players, but every game can start from a different set of photographs, even if they're taken from a personal scrapbook.
Sur la Route de Chrysopée
Morgane Reynier
A letter-writing roleplaying game for two alchemists, written to bring magic to the everyday world. Every corner, every item, every glimpse of the landscape can become the seed to a story. Photos, notes, sketches... With a spoonful of imagination, they make up a travel journal that's both real and imaginary.
Sweet Agatha
Kevin Allen Jr.
A bridge between the worlds of traditional fiction and cooperative storytelling. It captures the excitement of a good book or film and allows the reader and their friends to actively participate in the story. The act of reading and manipulating the pages changes the outcome of the story. You are in control of Agatha's destiny.
Un gioco di ruolo solitario sulla solitudine del potere. I tuoi pensieri messi per iscritto formeranno il diario: l'artefatto che rappresenta lo scopo ultimo del gioco. Potrai anche disegnare, inserire fotografie, creare un pastiche di collegamenti ad altre forme di creatività. In ogni caso sarai tu a stabilire il ritmo di gioco.
Itras By
Ole Peder Giæver & Martin Bull Gudmundsen
Un gioco di ruolo surreale, il sogno abbandonato di una dea. Le regole di Itras By creano un cerchio magico dove lasciarsi andare e durante la partita tutti i giocatori avranno accesso a due mazzi di carte che li aiuteranno a portare avanti la storia. Le carte risoluzione e le carte imprevisto.
Our Queen Crumbles
Jason Brown
Un gioco di ruolo fantasy sull'inevitabilità della morte, realizzato su schede plastificate e pronto da giocare. Lungo la strada verranno alla luce indizi sull'identità dell'Assassino, oltre alle vicende che rendono unici i protagonisti. Tutto mentre il corpo artificiale che ospita l'anima della Regina va in frantumi.
Un gioco di ruolo per tutte le età che vi invita a collaborare per superare gli ostacoli. All'inizio il vostro dado avrà dodici facce, ma ogni volta che qualcosa andrà storto diventeranno sempre meno… Fino a ridursi a quattro soltanto. L'obiettivo è davanti a voi, il tempo stringe: sarà tutto finito in meno di due ore.
Costruite un mondo insieme, riempitelo di segreti e di Presagi. Poi partite all'avventura nei panni degli Eroi che lo salveranno. Ma fate attenzione: il tempo è una risorsa preziosa e l'Orologio dell'Apocalisse non smette mai di avanzare, fino all'ultimo rintocco. Ogni Istante perduto vi avvicina all'Apocalisse.